We are slowly refurnishing the house. Prior to and during the remodel, we sold a lot of the furniture we didn't want to keep. So the house has been pretty empty, but slowly I'm filling in the missing pieces.
Back in October, I ordered bar stools from
DWR
which arrived over a period of several months. In November, I ordered a new Poliform dining room table from
Europe-by-Net
in a wood that matches the kitchen. It arrived in the beginning of April, in perfect shape. (It's also serving as my new desk!)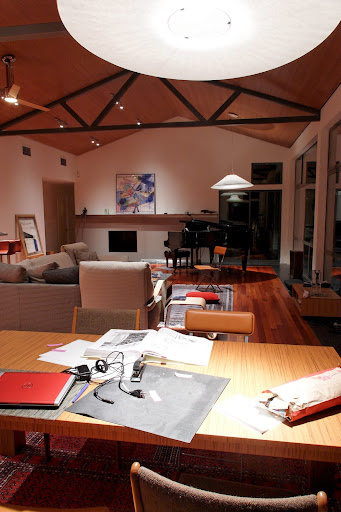 Sadly, Europe by Net is not selling much to the US any more, most likely due to the weakness of the dollar (they did their sales in dollars, rather than in Euros or Pounds, and probably got burned badly on the currency fluctuations).
I was also able to pick up a couple of nice area rugs from a Roche-Bobois floor sample sale (so they were somewhat reasonably priced). You can see the one that Coda's perched on to the left. She certainly likes it!
I had to go to Italy in late March for a friend's wedding, and during that trip, I picked out the fabric for our sofa, having settled on the Flexform Groundpiece. Prior to the trip I had designed the layout for the sofa, so having picked out the fabric, I was able to get pricing from several stores in the US, Italy and the UK.
intirium.com
(in the UK) was the winner by far, although there was a lovely store in Ferrara, Italy that was a close second. My only hesitation is that I had to buy it in Euros, so now I'm the one speculating on currency. Hopefully the Euro won't change much relative to the dollar between now and the time it arrives (when I have to make the last payment). The sofa should arrive some time this summer, at which point we'll do the furniture shuffle (sofabed downstairs comes upstairs to guest room, sofa upstairs goes downstairs, and new sofa goes in living room).
Having the major pieces in hand, I bought a lovely B & B Italia accent chair yesterday from someone on craigslist, which is a nice compliment to either the old sofa or the new one. I still need to purchase dining room chairs (trying to decide between Baleri Italia mari' and Zanotta Lia), and a real entertainment unit for downstairs (to replace the $69 Ikea piece I got a few months ago). As the weather's nice, I need to get a small outdoor patio set and a BBQ (will most likely get the small Fuego, since it has a very clean design). Eventually, I want to get a bedroom set for downstairs, but for that I'll continue to monitor craigslist for a bargain. There are so many great craigslist items for sale... you just have to be patient and wait for the right thing to come along.
At some point, I should put up some artwork too. But I'm still afraid to put holes in the wall!